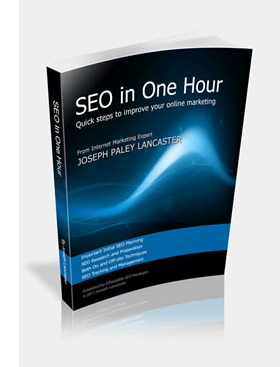 In just 60 minutes you will know just what steps to take in order to have your website ready for search engines. Optimize your website utilizing time tested and proven methods.
From initial research to where the future is in Internet Marketing, this simple guide will step you through the process of What is SEO , important initial steps of SEO, keyword research, on-site SEO, off-site SEO, how to increasing your website's visibility externally through directories, press releases, article writing and blogging. Plus how to best track and manage your website's traffic to best understand details of where people came from, with what keywords, how long they were on your website, what pages they left through and how many people stick around beyond the first page. It's all here in just over a dozen quick pages outlining specific code and text to change and where to find the traffic.
It's a quick and easy to read book that walks you through the basics and into a bit more aggressive off-site search engine optimization techniques. No black hat or tricks. No gimmicks or ways in which you will end up penalized by search engines. Just the tried and true, tested and re-tested methods.
Get your copy now:
Well, nothing is free. Here are some questions that help us in our marketing. Be honest, you won't hurt our feelings. For your time we'll send you your free copy.