Get a WordPress website with matching Facebook fan page, Twitter profile, SEO, hosting, email, and $100 to spend with Google!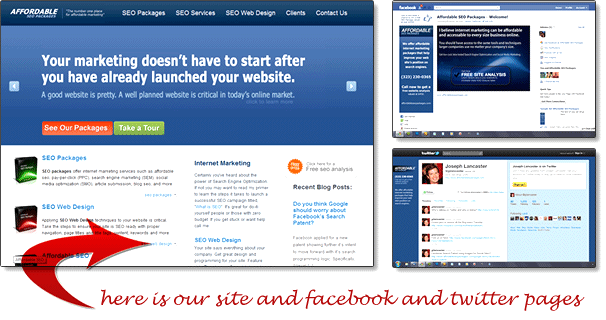 Web Design for SEO – Why it's important
SEO web design is one of the least expensive ways to market your company online. If you take web design with SEO seriously from the start, you'll have greater long-term results. Most web designers don't understand SEO. Conversely, most search engine optimization firms are equipped to handle design. Our SEO firm is different. We primarily focus on business to business (B2B) websites and let the young graphic designers out there work on everything else.
Our focus is business, as we stated above. Your business needs a website that establishes trust with the web visitor in seconds and credibility before they feel safe to make a purchase. Our web design & SEO special package is perfect for those who need website design, on-page SEO, integrated social marketing features such as Facebook, Twitter and more. Plus, a website that is easy to edit, manage and update in the future as technology changes. Lastly, all of this needs to be affordable today and years from now.
What is SEO web design?
SEO web design includes making sure your site is search engine friendly, submitting your site to all major search engines, optimizing the navigation, internal links, meta tags, code and more.
SEO and Web Design Get web design for SEO plus WordPress, matching Facebook and Twitter pages, with everything ready for search engine optimization.
Others limit you to 1 design you hope you like, limited changes, 1 photo, 1-2 pages designed, limited or no hosting…
With us you get a real designer who works with you via phone, from here in the US to discuss your options, what is best, what will work for your business' marketing (not just design), work with you until you are happy, find photos for the site's design, help you with content integration and so much more.
In short, we are a full service Internet marketing firm that wants to be your long-term partner. Not just a quick buck!
Request a Free Consult for your Web Design and SEO:
$500 Creative Web Design
$100 WordPress Installation
$350 One-time On-Page SEO
$200 Facebook Customization
$150 Twitter Customization
$1300 Total Very Limited Time Discount: $Call