Surfing Expert's Mission
We help small businesses increase their exposure and leads through long-term result orientated marketing.
Overview
Surfing Expert is a boutique marketing firm based in Los Angeles, California. Just a few friends passionate about what we do — creative, experienced and driven (we also love the oceans and to surf). In order to have time for everything in life we wake-up early to surf but are at our computers by 9am. This balance helps us be happier both at work and away from our desks for better careers, families and life.
Our expertise range from search engine optimization (SEO), search engine friendly web design, social network marketing (SMO), paid search marketing such as pay per click (PPC), email campaigns and affiliate marketing. Our clients want to succeed online despite their budget and we find ways to make it work.
When done right, internet marketing can help even new start-ups take on giants. Surfing Expert can serve as consultants simply guiding you or your team assisting with research or operate as your full-service internet marketing team, handling everything from strategy and optimization to design and programming.
Leadership
Surfing Expert was founded in 2005 as Affordable SEO Packages (ASP) and is lead by Joseph Lancaster. He's worked with start-ups to computer giant Dell, Inc., with accounts from MTV to the U.S. Navy and Secret Service. Through his passion and competitive nature the company has grown quickly in both clients and success stories. Read more about Joseph Lancaster.
Testimonials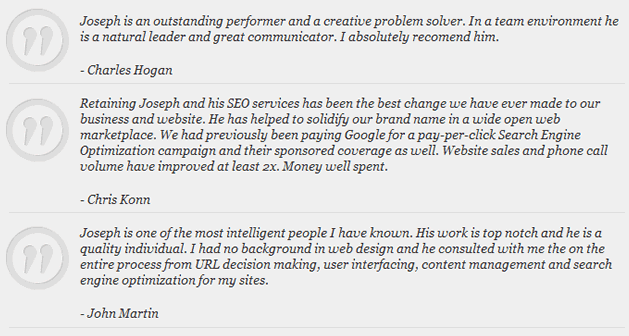 These are posted on our LinkedIn site. Want to ask these people about their statements above or their success? Find them on Joseph's LinkedIn page, our Google Places page, or our MerchantCircle page.
---
Payment Information
Web Design – Web design, in most cases, requires 30-50% of the total down as a deposit and the last 30-50% due prior to us uploading your completed site to your hosting live server.
Internet Marketing – SEO billing is based on your agreed terms. Monthly will be invoiced on the date which you originally joined, one time SEO or as-needed will be billed upfront as well as social marketing.
Call to get a quote on your specific project or
internet marketing needs at (323) 546-7873